I strongly believe that no matter how crazy you are in the things of God, the world will not know until they see it in your conduct. You may be good in dissecting the Bible, but your lifestyle will say otherwise.
While traveling from Uromi (Edo State) to Onitsha after speaking engagement this morning, something happened that prompted me to write this.
We were asked to stop at a police checkpoint in one village, and as usual, one of them came for their "tithe." After collecting the "tithe," he gave the diver a tract and said, "This is the Word of God." The driver threw it at him with anger. I asked why he did that? The driver said, "This one wey dey collect bribe here everyday want to preach to me?"
To me, that statement was an indictment on that policeman's integrity. I know he will have excuses like their salary is too meager to sustain his family, but it's not enough. Nobody forced him to join the police force. Any profession that will make you to lie or swindle people should be jettisoned.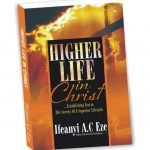 The only way to know that you are a genuine Christian is through your conduct. In fact, the moment you declare to everyone that you are a Christian, they will start watching your conduct to know whether you are whom you claim to be.
That's why Jesus said to us; "Let your light so shine before men, that they may see your good works and glorify your Father in heaven." Matthew 5:16.
Let your lifestyle win souls for the Kingdom. Let people see you and yearn to love the Lord like you. Let your character preach to people. You don't only win souls by preaching, your lifestyle, conduct and character can become a powerful way to depopulate hell and populate heaven.
Don't tell me about your Jesus until I see Him in you. No wonder Ralph Waldo Emerson said "Your actions speak so loud, I cannot hear what you are saying."
Billy Graham also said; "When wealth is lost, nothing is lost; when health is lost, something is lost; when character is lost, all is lost."
Wisdom is profitable to direct!
I am Ifeanyi A. C. Eze. Ambassador of the Kingdom of heaven to Africa.
Visit www.ifeanyieze.com and www.kingsuncommonwisdom.com for life changing materials