Wealth Rule #2: No Excuses!
By Godwin Chibuike
You want to be wealthy? Stop making excuses.
If I ask why you didn't make enough money this year, what will be your answer?
Your answer might be:
The economy is bad, government shut the border, I had lot of stuff going on, no time etc.
Excuses are never the reason for why you did or didn't do something. They're just facts that you made up in order to help yourself feel better about what happened.
Successful people don't make excuses. In fact, if you take time to analyse your excuses you will discover that you only use it mostly when you fail.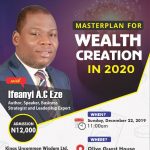 EXCUSES ARE FOR FAILURES. Instead of looking for an excuse, take responsibility and look for solution or better steps you can take right now.
If you are going to create wealth in 2020, you must own it up and take full responsibility—then you must commit to never using excuses for anything!
You cannot allow yourself, your team, your family, or anyone in your organization to use another excuse as a reason why something didn't come to fruition. As the old saying goes, "If it is to be, it is up to me."
"Excuses are the cheapest commodities in the market, both buyers and sellers are stranded in life."~ Ifeanyi A. C. Eze.
So, don't make any excuse–come to the Business and Career conference tomorrow by 11:00am. Venue: Olive Guest House, GRA, Onitsha. Call 07032681154 and book your seat now!
Ifeanyi A. C. Eze will be speaking on Masterplan for Wealth Creation In 2020 and Beyond.
Admission is N12,000. King's Uncommon Wisdom Limited. 0141855113. GTBank. For more information, click this link http://bit.ly/2Quofbl or check the handbill.
See you there.