Most times we allow our predicaments and challenges to dim our stars and hamper our exploits. But the truth is that everyone of us were specially wired by God to generate outstanding results before we leave this planet.
God did not create any failure. God did not create any beggar. God did not create you to just occupy space for few years and disappear afterwards. God created you to generate undeniable results and make visible impact.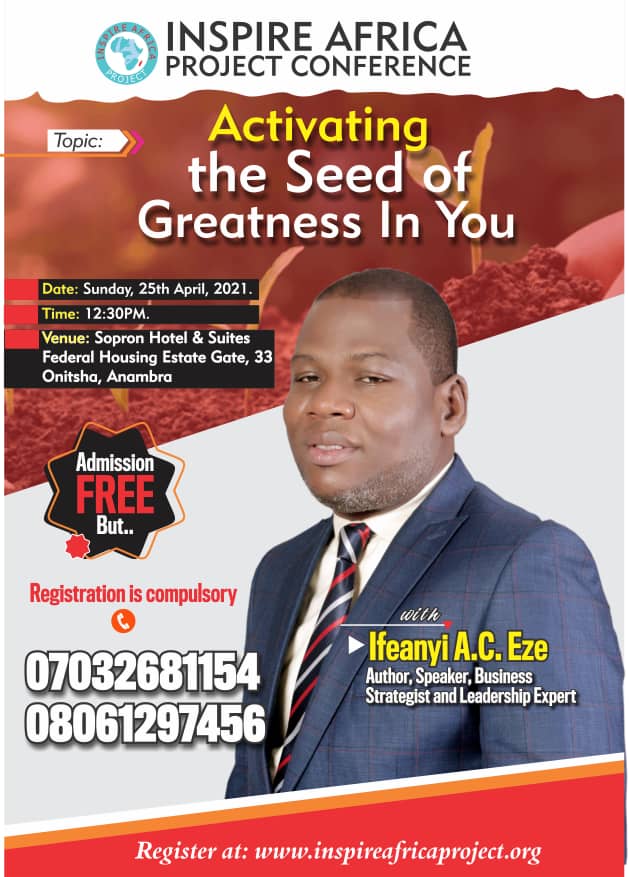 At the next Inspire Africa Project Conference, I will help you to understand how to unleash the warrior in you and affect your generation positively.
Theme: Activating the Seed of Greatness In You.
Venue: Soprom Hotel, 3-3, Onitsha, Anambra State.
Date: Sunday, 25th April, 2021.
Admission is absolutely free.
Click this link bit.ly/2HVeqPn and register right now.
We have limited space.
For more information, check the handbill or call 07032681154 or 08061297456.
Kindly share with your friends and family.