All these who is after me and who said I will not prosper in Africa should be tinkered with. We all know that there are satanic powers, but there is a solution to it- the name of Jesus Christ. But the problem is, after binding the devil, what next?
While we gather to know who is after us everyday, a 7-year-old Ryan of YouTube's Ryan ToysReview generated $22 million in revenue last year from his YouTube account?
I mean $22 million in reviewing toys. His YouTube channel has amassed about 36 billion views. Any toy he reviews will be sold out in toy stores within few minutes.
The problem is that we don't think out of the box. Everybody does the same thing. Business people sell the same thing. Those who offer services do the same thing. Those who are into network marketing make you believe that you cannot become wealthy unless you sign up.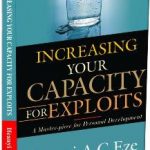 It is time to think differently. It is time to discover untapped areas and maximize them. Money is not difficult to make, just discover something unique and turn it into value.
These are the Highest Paid YouTubers of 2018!
Logan Paul – $14.5 Million.
PewDiePie – $15.5 Million.
Jacksepticeye – $16 Million.
Vanoss Gaming – $17 Million.
Markiplier – $17.5 MIllion.
Jeffree Star – $18 Million.
DanDTM – $18.5 Million.
Dude Perfect – $20 Million.
If you wish to start a YouTube channel all you have to do is to carefully find unique areas that people are not yet covering. You must not do what others are doing to make money.
Uniqueness is the number one thing you should consider any time you are thinking about making money. To generate products or services ideas, just take your time and find out areas of life you can change for the better.
You can click this link and sign up if you want us to help you to generate unique products and services ideas. You can also call Godwin on +234 7032681154 or send an email to [email protected]
See you at the top!
Copyright 2019: www.ifeanyieze.com. Reprint, curation, adaptation, or re-posting this article without the consent or approval of www.ifeanyieze.com is a copyright theft.