The Size of Your Company Is Dependent of The Capacity of the Managers
In building construction, depth determines height. How deep the foundation is determines how high the building will become. If you remove the roof of a bungalow and add three storeys on top of it, it will definitely collapse one day.
Business does not grow by itself. Every corporation you know today is a product of solid management. Any business that has remained at the same level for 20 years is announcing to everybody that those who are managing it needs to upgrade their capacity.
During my certificate program at Harvard, we studied many companies that grew from the scratch and became large corporations. The secret is not luck, but deliberate management strategies.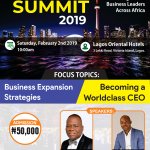 Your business can grow if you develop the right capacity to manage it. If the CEO of Apple Inc. takes over your business right now, he will transform it within few years. He will reorganize and restructured the company and position it for unprecedented growth.
Your managerial capacity will determine the future of Your business. If your managerial capacity is level 4, your business can never grow to level 5. The depth of Your capacity determines the height of your business.
That is why I want to help you develop the right capacity to grow your business. I will teach you how to Become a World Class CEO at the CEO Success Summit holding at Oriental hotel, Lagos. You will learn what to do to take your business to the global stage.
Admission is N50,000. Pay into King's Uncommon Wisdom Limited. 0141855113. GTBank.
For more information,  kindly call Godwin on 07032681154.
See you at the top!