While speaking at Ibadan (Oyo State) yesterday, I told the audience that it is the impact you are making now that will imortalize you. It may not be deliberate. It could be the hunger to make a difference that drove you to touch lives and affect a generation.
History has shown that in every generation, some individuals usually rise to make a difference. During the racial segregation in the United States and of America many years ago, blacks were looked down upon and were restricted in many areas. It included access to facilities, services, and opportunities such as housing, medical care, education, employment, and transportation.
It was so bad that if a white person steps into a bus and there are no vacant seats, a black person must stand up for him to sit. But a blind woman named Rosa Parks refused to leave her seat for a white person. That action gave the blacks the boldness to fight for their rights. That action was what inspired the great Martin Luther king Jr. to rise and fight for the right of his people.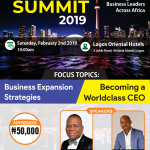 A blind woman took a step that changed the narrative in the United States of America. She was a change agent. She immortalized her name through that action.
Mary Teresa Bojaxhiu (Mother Theresa) was originally born in Albania. She became a Catholic nun and had a passion to take care of the poor and the downtrodden.
She founded the Missionaries of Charity and transformed lives at Calcutta, India, and left her footprints on the sands of time. On October 17, 1979, she was awarded the Nobel Peace Prize for her humanitarian work with the poor. Today, she is a Saint!
I want to ask you a very important question. What will humanity remember you for? That you were born, and you lived and disappeared? That you existed for the purpose of census? That is, a piece of statiscal material designed to increase the population of your nation?
What will you tell the future generations that happeed between your birth and death? That you appeared on the scene, became a spectator and died? Would you want the cemetery to keep the seed of greatness God deposited in you for the purpose of generational impact?
In case you don't know, God did not create you to occupy space and die. He wired you for impact. Discover what He created you to achieve and make your life count before you die.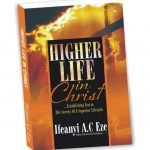 I usually stand before the mirror and say to myself, "Ifeanyi A. C. Eze, you have just one life to live. Don't waste it. Make your life count before you die." I want you to do the same thing. Put yourself under positive pressure until the champion in you emerges.
Talking about you, Jesus said; "You are the light of the world. A city that is set on a hill cannot be hidden." Matthew 5:14.
Go forth and shine brighter. Let your generation feel the heat of your impact before you die.
See you at the top!
I am Ifeanyi A. C. Eze. Ambassador of the Kingdom of heaven to Africa.