This Is Why You are Not Succeeding!
There is a simple research I conduct in my speaking engagements. I usually start with this question; "If you truly want to succeed, can I see you your hands up?" Of course, everybody will raise their hands.
I will follow it up with the second question; "how many of you wants their businesses to grow this year?" Everybody will raise their hands.
At this point, I will ask the third and final question, "how many of you have read five books on business this year?" Guess what? I have never seen up to five hands up since I started asking these questions!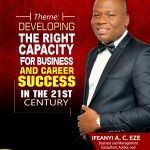 It simply means that many people want to succeed, but they don't want to learn how to succeed. Many people wants their businesses to grow, but they don't want to learn the right strategy that engenders business growth. They are waiting for God to come down from heaven and learn how to succeed on their behalf.
I don't know who told Africans that God will do everything for them. Everybody is looking for where to shout "amen" or "I receive." Everybody is hunting for powerful men of God that will speak into their lives and they will become billionaires without their input. That is why Nigeria is the poverty capital of the world!
Do you know that upon all the amen and I receive it we shout daily, there are less 13,000 millionaires in Nigeria? Maybe you don't understand what that means. In a nation of about 200 million people, we have less than 13,000 millionaires! We must change our approach towards succees and business growth in this part of the world.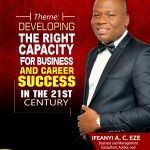 We want our businesses to grow but we are not ready to grow. Your business is not growing because you are not growing. You are still applying the same strategy since you established that busines. Get a shop, buy goods and display, sell and go back to your suppliers to buy more. That is an archaic way of running a busines in the 21st century.
I want to help you to grow your business, break the cycle of stagnation, and show you how to step into a new season.
All you have to do is to book your seat for Exponential Growth Conference coming up on the 17th November, 2019 at Villa Park hotel, Amuwo Odofin, Lagos.
I will be speaking on Developing the Right Capacity for Business and Career Success In the 21st Century. It will last for just 5 hours–from 11:30AM to 4:30PM.
Admission is N8,000. Account details: King's Uncommon Wisdom Limited. 0141855113. GTBank.
We have few spots remaining. Call Godwin on 07032681154 for more information.
See you at the top!