Our Coaching Program Will Change your Life!!
Albert Einstein said, "The significant problems we face cannot be solved at the same level of thinking we were at when we created them."
That means, if you created a problem at level 4 and remain at level 4, you cannot solve it. You cannot solve the problem that is bigger than your present capacity.
We (Thrive Coaching Academy) help people to develop their capacity. We help people to have the requisite skill to deal with their challenges.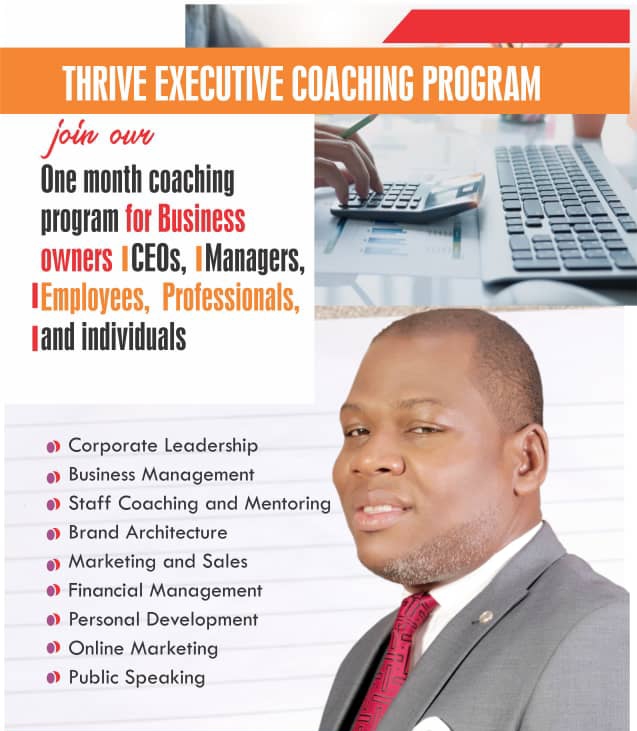 Low sales is a problem.
One-man business won't grow.
The inability to manage your money is a problem.
The inability to properly manage your business is a problem.
Competition is a problem.
Selling generic product is a problem.
The inability to forecast the future and prepare for it is a problem.
Stunted growth in business and career is a problem.
Low brand awareness is a problem.
The inability to attract top performers to your company is a problem.
Having average employees is a problem.
Which of these problems are you grappling with right now?
We can help you to overcome it through our coaching program.
Chat with me right here or call Godwin via 07032681154 or send an email via [email protected] or [email protected].
The problem you fail to deal with today will become insurmountable tomorrow.
Take action right now!
www.thriveconsults.com
www.ifeanyieze.com