Things People Waste their Money On that Ensures they Remain Poor
Poverty is a choice, prosperity is also a choice. I am very sure that between January and now you made sales, received cash gifts, or received a salary or profit of at least N1 million. If not once at least in trickles–N1,000, N10,000, etc. Where is the money?
Some of us developed negative money habits consciously or unconsciously that built a permanent residence for us in the city of strugglers.
Whenever people complain about the lack of money I usually sit down with them to trace their income and expenditures. If you make N100,000 and spend N170,000 that same month, no matter the volume of anointing oil you drink or who lay hands on you, it will be difficult for you to grow wealth.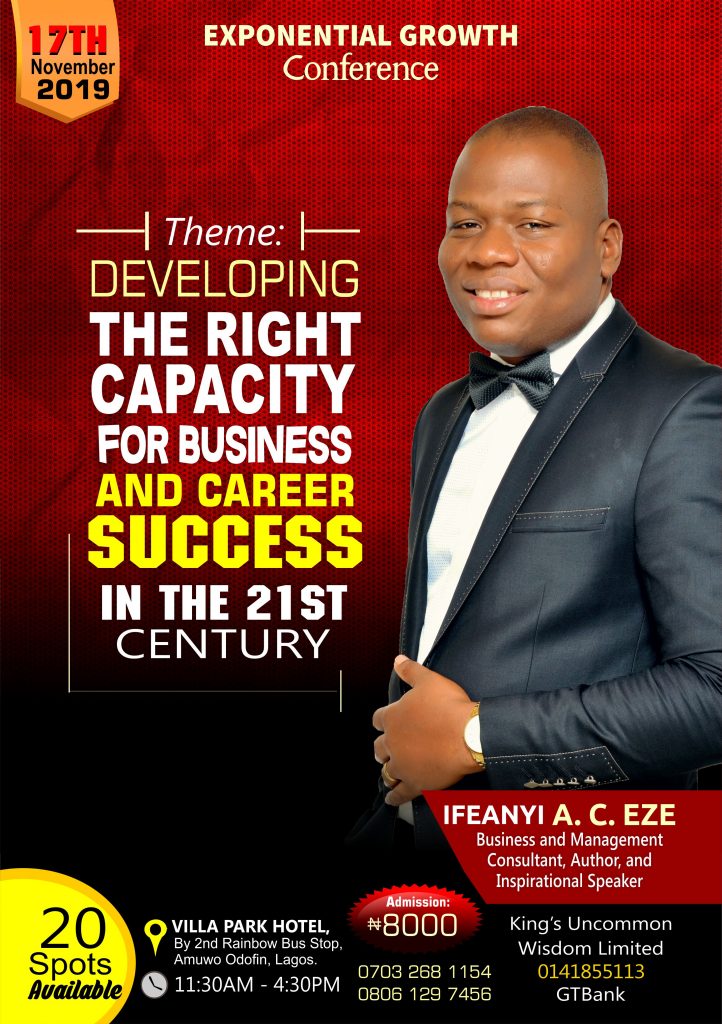 Unfortunately, some people want to be rich without changing their negative habits. You cannot experience a new season until you imbibe new habits and discipline yourself. New seasons require new thought patterns, new habits, and discipline.
So, let's explore the three things you do that inhibits your financial success:
1. Senseless Celebrations.
There is nothing wrong with enjoyment, as long as you don't indulge in evil. But to make it a habit is an invitation to pennilessness.
In my book, Twelve Pillars of Financial Success, I opined that some people try very hard to impress those who don't even care by organizing all manner of parties. From the naming ceremony to birthdays and even death days.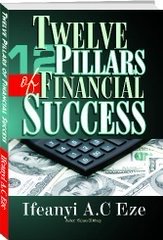 There are people who borrow money to organize a party in order to impress their friends and relatives. In fact, some people empty their savings just to organize a few hours event that does not add value to their lives. That's insanity.
Stop trying to impress people because nobody cares. The same people who just ate and drank and even left with takeaway packs will be talking about how stupid you are while going home.
While a young man pridefully narrated how they spent millions of naira on their mother's burial ceremony a few years ago, I wondered whom they wanted to impress. You simply fed your villagers and guests for a few days. People will talk about it for a few days and that's where it ends. Your money is gone forever.
I don't know why people engage in competition for burial ceremonies. I mean, the only thing you owe a dead person is to bury him or her.
There are people in your family that need that money you are wasting. Don't allow a dead relative to render you poor the rest of your life. He or she is already dead, why are you wasting the money that can be used to take care of the living?
I am not against celebrations, but do it according to your capacity for now. And it shouldn't be weekly or even yearly. When you grow your wealth, you can comfortably do that. Some people waste thousands of dollars in senseless celebrations in the village only to return to the city to beg for financial assistance.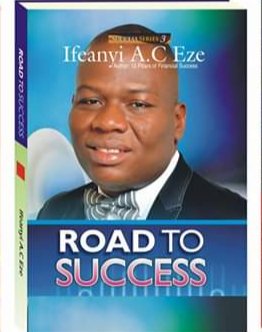 2. Gambling.
No gambler can be richer than the owner of the gambling center. In fact, the owner is competing with every gambler and he has an edge over them.
You cannot grow wealth through gambling. In fact, statistics show that people who win millions of dollars in lottery and gambling become poorer two years after. Why? If you fail to offer goods or services in exchange for money, you can't grow wealth. That is why free money is dangerous. Can't you see that beggars don't stop begging?
A young man said that he spent over N400,000 ($1,200) in gambling within six months. Once you are addicted to gambling and lottery you are in trouble. People sell their cars and houses to engage in gambling. It is an addiction you need to break free from today if you truly want to be genuinely rich.
3. Get Rich Quick Schemes.
Whenever people send links or text messages inviting me to partake in one Ponzi scheme or the other, I wonder why people are so gullible in this part of the world.
Any "investment opportunity" that promises you eighty or one hundred percent return on your investment should be well scrutinized. If you check well, you will discover that it is a Ponzi scheme.
Ponzi scheme is a form of fraud in which belief in the success of a non-existent enterprise is fostered by the payment of quick returns to the first investors from money invested by later investors.
Ponzi schemes no matter their name runs what we call a dig-a-hole-to-fill-a-hole system. You will keep digging holes to fill holes until there is no more space to dig and it will collapse. For example, two to three holes were dug to pay one person when MMM was reigning. Things like that don't have a future.
Stop trying to be rich without paying the required price. To be rich you must generate a unique idea, engage in intensive research, find a niche market or a segment of the market that needs the idea, package it in a way that will appeal to them and engage in aggressive marketing and sales. Stop hunting for free money. There is no free money in life. If it is free you will pay a heavy price for it one day. It's just a matter of time.
I am sure you want to learn how to conserve money and how to create wealth. You can join me at the Exponential Growth Conference coming up on the 17th November 2019 at Villa Park hotel, Amuwo Odofin, Lagos State. For more information, kindly check the handbill below or call Godwin on 07032681154.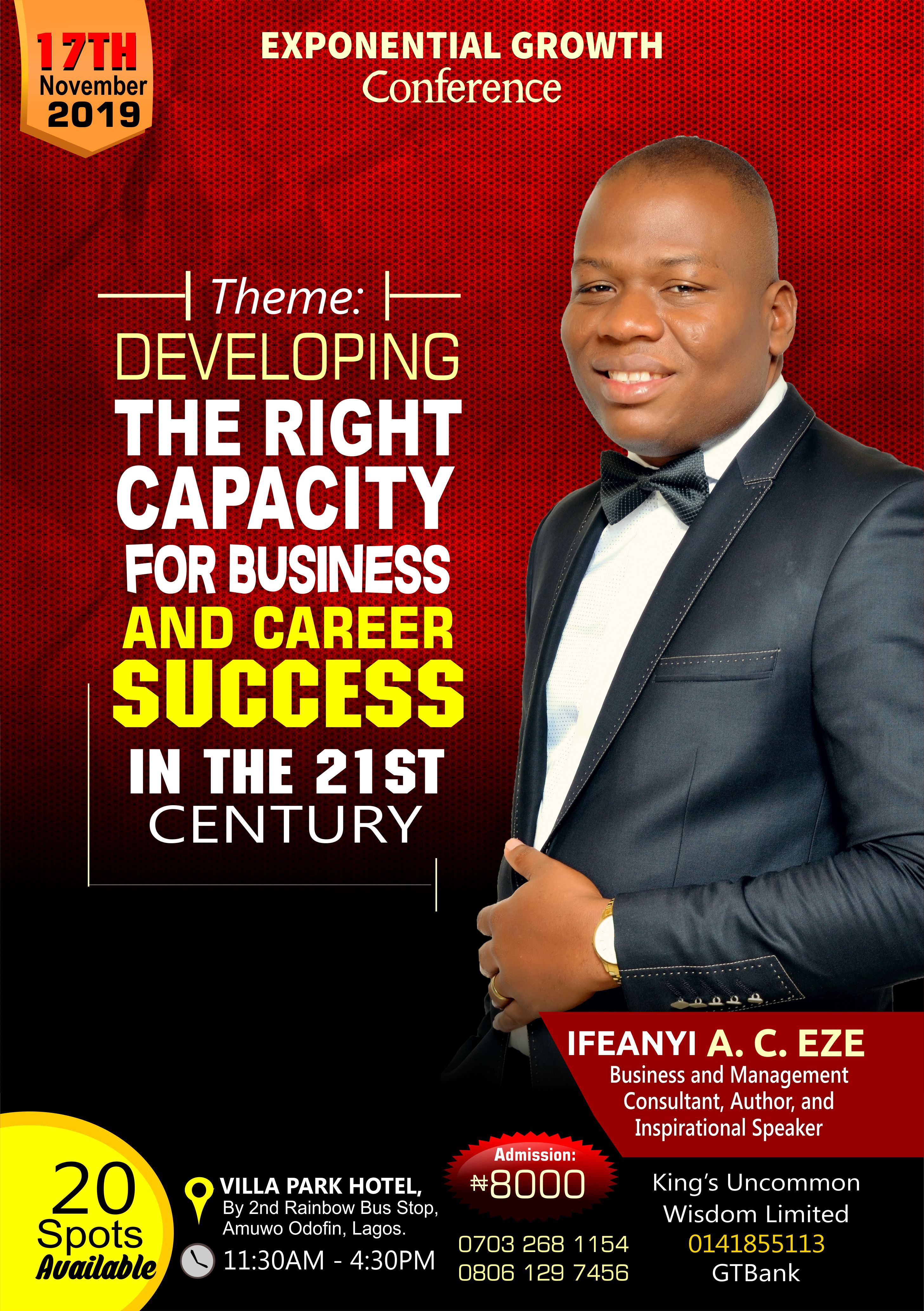 You can also order some of my books on wealth creation and money management like Twelve Pillars of Financial Success, 15 Laws of Money, and Road to Success. Click this link and place your order right now.
Share your thought in the comment section below.
Keep soaring!
Copyright 2019: www.ifeanyieze.com. Reprint, curation, adaptation, or re-posting this article without the consent or approval of www.ifeanyieze.com