Kick Poverty Out of Your Family
No matter how we pretend about it, poverty will twarth your plans and delay your projects. Poverty can turn a potential champion into village champion.
While you are reading this now, somebody just died somewhere in Africa because the family cannot raise money to take the person to the hospital.
Sometime ago, the National Bureau of Statistics (NBS) released the "Poverty and Inequality in Nigeria" report, which highlights that 40 percent of the total population, or almost 83 million people, live below the country's poverty line of N137,430 per year.
That is, about 83 million Nigerians live below N377 a day. That is the level of poverty in Nigeria. If you check the poverty index across Africa, you'll weep for this continent.
Nigeria's unemployment rate as of the end of 2020 rose to 33.3% from 27.1% recorded as of Q2 2020, indicating that about 23,187,389 (23.2 million) Nigerians remain unemployed.
If almost 24 million people are unemployed, just imagine the effect in many families.
But there is a solution.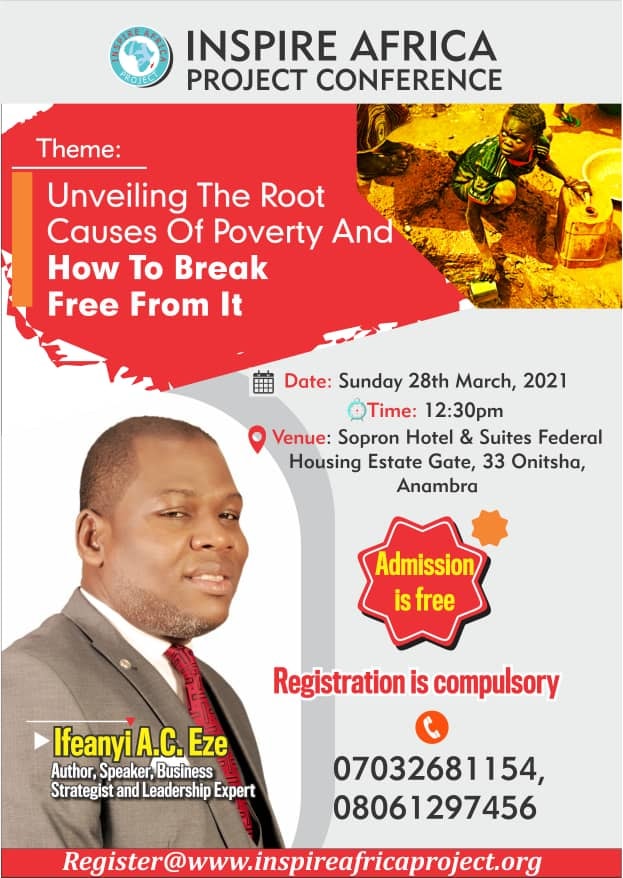 I will be showing you the solution at the next Inspire Africa Project Conference.
Theme: Unveling the Root Causes of Poverty and How to Break Free from It.
Venue is Soprom hotel and suites, 3-3, Onitsha, Anambra State.
Date is March 28, 2021 by 12:30PM.
Admission is free. Click this link bit.ly/2HVeqPn and register.
For more information, call 07032681154.