My Prayer for You This Month
May God give you uncommon wisdom to plan for Christmas. May He give you the wisdom to understand that there is life after Christmas. May He help you to understand that there is no special demon during the ember months so that you can avoid the unnecessary rush that leads to untimely death.
May God empower you to plan for November. May He reveal to you uncommon money making ideas and how to turn them into products and services.
May God direct you to the right books to read that will help you to run your business or idea profitably. May He direct you also to the conferences and seminars you should attend to generate enough capacity to manage the breakthrough that is coming your way.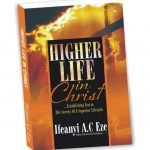 May God help you to manage your time properly this month and beyond. May He separate you from idle chatters and time waters so that you can chase after your dream with the tenacity of a bulldog.
Above all, may you have an encounter with God this month that will turn you into another man. May uncommon hunger for the presence of God and His Word permeate your heart and cause you to become a Kingdom giant in Jesus matchless name!
Keep soaring!
Visit www.ifeanyieze.com for free gifts and life changing materials.