You are Supernaturally Wired for Unprecedented Success!
Success is the achievement of something that you have been trying to do. Success is the achievement of something valuable  within a specified period of time or within a specified parameter. Success can also mean completing an objective or reaching a goal.
Success means many things to many people. To some people, success should not be mentioned because it is evil. To others, success is succeeding in succession. Whichever one you believe will become your self-fulfilling prophecy.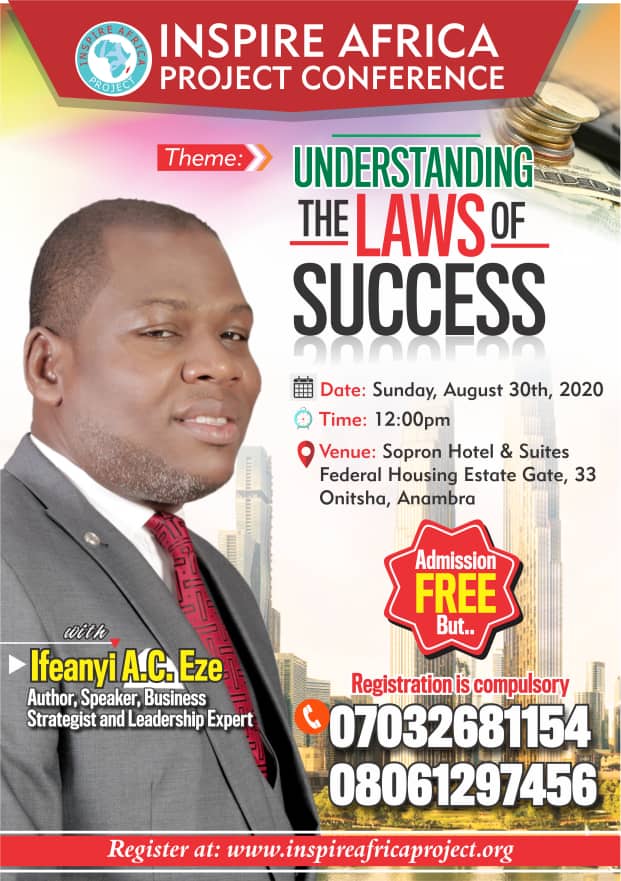 God wants you to succeed as long as you don't commit atrocities along the way. No father wishes his children evil, likewise our heavenly Father.
But there are laws that undergirds success. No matter how anointing you are, if you don't have the right key you will not open the right door. If you like, cry, scream, jump, or shout Holy Ghost fire twelve times, if you don't have the right key, you'll be stranded. Therefore, anyone that wants to succeed should find the right keys.
On the 30th August 2020, at Soprom hotel and suites, Federal housing estate, 33, Onitsha, Anambra State, I will show you ten laws of success. I will give you the right keys that will help you to open the right doors.
Admission is free.
To grab your seat, simply call Godwin on 07032681154 or Onyeka on 08061297456 right now.
See you at the top!
www.ifeanyieze.com
www.kingsuncommonwisdom.com
www.inspireafricaproject.org